Fourth Quarter Marketing Strategies To Dominate Any Market
The most critical time of year for any business to excel is during the fourth quarter – Your Fourth Quarter Marketing Strategies To Dominate Any Market will discuss why your business should start implementing now.
With many experts "…expecting upwards of 180 million Americans to shop in-store and online, which is 72 percent of those over the age of 18." –BestBlackFriday.com The opportunity to capitalize on this momentum begins with your October early November marketing strategy.  Black Friday and Cyber Monday are "…still two of the biggest sales days of the year and 2017 was their biggest to date. Many online retails sites, however, are turning it into a "Black Friday Week" by offering deals in advance of the day to get a head start on the competition. In 2017 US shoppers spent more than $16 billion over the Black Friday weekend." – Forbes.com
Simply put millions of active consumers will be online over the course of the week prior to Black Friday and through Cyber Monday.  Strategically marketing your business now will set you up for success, not only to 'Crush' Fourth quarter goals but set you up for a profitable New Year!
Fourth Quarter Marketing Strategies to Dominate Any Market applies to every type of product, service or business that markets online! From Entrepreneurs to Corporate Sales Managers, small brick and mortar stores to E-Commerce Giants (Amazon, Apple, Walmart, Best Buy, Target …) Real Estate Agents to Insurance Agents, Shopify Store owners and even your local coffee shop has the opportunity to capitalize on what E-commerce brings to the economy.
Dominating your market starts now, although this strategy can be implemented at any time.  Implementing now will help shatter 4th quarter sales goals and set your customer base for a very successful New Year and beyond.   There are 4 Critical keys to starting your strategic marketing campaign today.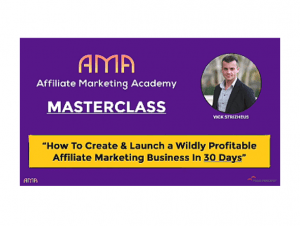 Free Masterclass – How To Create And Launch A Successful Affiliate Marketing Business in 30 Days. Step-by-step training!
Key 1
A strategy that can and should be implemented right away in any niche is retargeting traffic media.  This is a way for you to be everywhere, reach millions of people and literally dominate your market for pennies on the dollar.  The key in marketing is to never waist a click and this can easily be achieved by setting up a retargeting pixel with Adroll.
It is free to create an Adroll account and you can grab your retargeting pixel right away.  Adroll gives you the ability to follow your visitors or customers wherever they travel on the internet.  Your retargeting pixel should be placed on your website as well as on the landing page of your offer.
Fourth Quarter Marketing Strategies to Dominate Your Market STARTS by creating a retargeting pool of people.  Adroll gives you this invaluable tool to build your pool of people effortlessly! Allowing you to retarget and market to later!
For Entrepreneurs and Business Owners capturing leads is the most critical aspect to any marketing campaign.  Adroll allows you to re-engage those visitors and create a warm traffic scenario.
With Adroll you do not want to start a retargeting campaign right away.  Allow your short term marketing campaigns to pool these prospects for retargeting mid November through early December.  This will give you or your company the ability to take advantage of the millions of shoppers online during the holiday season.
Some of the benefits of Adroll:
Integrates with the most popular e-commerce stores, marketing platforms, and reporting tools.
Helps brands orchestrate display, social ads, email, landing pages other marketing channels to help generate more revenue.
Helps you find the right audience to grow your site traffic
Assists in converting traffic that is already familiar with your brand.  Average ROI is 5x return on your marketing dollars.
Adroll will even offers 2 free complimentary ad creatives to get your retargeting campaing rolling!
Key 2
The second key component ot your marketing strategy is creating Marketing Sales Funnels to capture prospects and convert sales.  There are several sales funnel builders available i.e. Instapage, Leadpages, and ClickFunnels  to name a few.  Most sales funnel software programs come with a free trial period.
From personal experience and ease of creating sales funnels, ClickFunnels has everything you need to market your business sell, and deliver your products online.  They even walk you through a step by step process and help you create your very first sales funnel!  As an added bonus in their step by step funnel builder process ClickFunnels will give you a domain name for Free to help you have your first funnel up and running the same day!
Once you have your adroll retargeting pixel you can place the pixel on the landing page of your sales funnel. Once your visitor clicks on your ad, the retargeting pixel will capture their information regardless if they opt into your offer or make a purchase.  Having this option makes your retargeting pixel an even more valuable resource.
When running your cold traffic marketing campaign, it is highly recommended to split test your sales funnel.  This will give you insight as to what types of funnel ads are more responsive.  Split testing your funnels is easy to accomplish with your funnel builder.  ClickFunnels allows you to create a variation from each page of your funnel with a simple click of a button! You have the ability to create split tests for each page of your Sales Funnel – from landing page to thank you page – all with a click of a button!
Running a cold traffic (test) campaign will give you a feel for your market and what they are responding to.  Once you see the results from your test campaign, you can run a strategic scale campaign with your winning sales funnel.  Minor adjustments and an additional split test with your strategic scale campaign will align you for your final funnel.
As you prepare your domination campaign, the visitors who have opted into your list are eager to see more of what you have to offer.  The warm traffic that you created by your Adroll retargeting pixel will recognize your company and give additional consideration as you follow them around online with your retargeting campaign.
Key 3
Fourth Quarter Marketing Strategies to Dominate Any Market relies on another critical Key Component that allows you to track and optimize your marketing campaign. ClickMagick is a marketing software that allows you to track each click of your ad.
ClickMagick allows you to filter out bots as well as fake traffic supplied by some of the traffic resellers out there.  With faster redirects and 24/7 link monitoring you can insure your funnels and ads are getting the results you are looking to achieve.
ClickMagick gives you the ability to create multiple links for your offer.   Creating separate links based on where you are advertising such as Google, Facebook, Twitter, Instagram, Pinterest etc.  When you create a separate link for each targeted campaign, you also get insight as to which media platforms are more responsive to your offer.  This inturn will give you an edge on your competitors when setting up your Domination campaign when you run your Adroll retargeting campaign.
ClickMagick is a leader in the industry for tracking software.  Like ClickFunnels, ClickMagick also offers a 14 day Free Trial.
The ability to analyze where each click is coming from is one of the Most Critical components to your Fourth Quarter Marketing Strategies to Dominate Any Market.
Some of the added benefits of ClickMagick:
Dynamic Affiliate links
Automatic Bot Filtering
Advanced Geotargeting & Mobile Optimization
Google Analytics Compatible
Lightning Fast Link Redirects
Ability to add 4 Types Of Pop-ups To Any Link
Add Retargeting Pixels To Any Link
Link Cloaking
Click Fraud Monitoring & Traffic Quality Analysis
Facebook Sharing with custom title, description and image
ClickMagick even offers a free Tracking Guide that gives you an overview of the added value their tracking software gives your marketing strategy.
Key 4
The final critical key to your Fourth Quarter Marketing Strategy To Dominate Any Market is having a reliable 'engaging' auto-responder.
Implementing a marketing campaign, creating sales funnels, tracking your clicks, and creating a retargeting pool needs a solid auto-responder to complete your final piece to your marketing strategy.
When your customer opts in to your sales funnel having an immediate follow up strategy is critical.  Auto-responders allow you to set up follow up emails from the moment they opt in to as far out as your marketing campaign wants to reach.  The key is keeping your customers engaged and providing value to them.  This creates your ongoing relationship with them where they will look forward to your email and what you have to offer.
For targeting your customers with specific holiday offers (Black Friday, Cyber Monday, Christmas, Valentine's Day, Easter etc.) – direct email with your auto-responder comes into play.  Depending on your niche and your product or service, discounts and incentives can be shared easily through email.
With the right auto-responder, email marketing is still a relevant and critical piece to any Marketing Campaign Strategy.
Like the aforementioned key components to your Marketing Strategy, most Auto-Responders offer free trial periods as well.  There are several major auto-responders available:  Aweber, iContact, Mail Chimp, InfusionSoft, Get Response , and ConvertKit to name a few.  CickFunnels also offers an "Actionetics" package which incorporates an auto-responder with your sales funnel along with a custom follow up sequence based on your company and niche.
As in any marketing campaign or strategy, testing various resources available is key to long term success.  Following up on email delivery and open rates with your auto-responder is a critical metric to monitor.  With the holiday's around the corner and the new year approaching fast stay on top of your email delivery rate.  From previous expereince, most auto-responders allow you to import contacts from other auto-responders if you are not seeing the results you desire with your current choice.
Critical to your Fourth Quarter Marketing Strategy is a responsive email list.  Meeting fourth quarter sales goals is critical, however creating a long term relationship with your list for the New Year and beyond is even more critical.
For additional resources and marketing tools with free trial periods visit our Entrepreneur / Marketing-Sales Tools section.
Incorporating the 4 Keys into your marketing strategy will allow for scalability and help insure long-term success for your business.   Each key compliments the other keys which are critical when creating a successful marketing campaign.
Your Fourth Quarter Marketing Strategy to Dominate Any Market will give you or your business the opportunity to capitalize on the upcoming Holiday marketing campaign as well as give you a blueprint for the future.
"Last year, Alibaba's Singles' Day event hit a record of $25.4 billion in sales in 24 hours … in the US, Black Friday online sales totaled $5.0 billion and Cyber Monday registered sales worth $6.6 billion …" – Forbes Singles' Day Global Shopping Festival 2018.
The ability to market your offer, service or product and reach millions of eager customers has never been greater!  The Fourth Quarter is a golden opportunity for consumers to become familiar with you, your product, service, brand and why they should pursue you instead of your competitor!
This Fourth Quarter Marketing Strategy can be used throughout the year – however why wait when "Your Time Is Now … to Worksmarter4yourfuture".
Subscribe to our newsletter and receive information on free trainings and new opportunities right here or visit our contact page.
As always, my best to you for continued success in business and in life!
Rick Fronek
CEO  Worksmarter4u / Worksmarter4yourfuture
The key to continued success online is staying up to date with current and relevant marketing strategies for your business. For additional insight and information on generating traffic and creating marketing campaigns see "Internet Traffic Mastery – The Game Changer".