Recommended Reading.  Reading just 30 minutes a day can elevate the creative faculties of your mind.  Continuing education doesn't have to just be in the classroom or online.  Reading is a self-help form of education which will continually assist in opening your mind and inspiring new ideas for continued growth.
I have put together a few books that have "personally" been life-changing and inspirational for me.  Not only from a business perspective but also in everyday life.  Reading for a half-hour a day is a simple task that can do wonders for your business, as well as yourself mentally.  All of the books listed require minimal investment for an abundance of future prosperity.
Please kindly note that I am a promotional partner of @ClickFunnels®.  In some cases, affiliate commissions will be received when upgrading orders through the links clicked on this page.  My goal is to provide you with resources that I have personally read and applied or ones that I am currently reading and gaining knowledge from.
The biggest life changing book I have ever read is:
How To Win Friends & Influence People by Dale Carnegie.  If you are in any type of sales/marketing position this book will change your perspective and your bank account if you apply in your daily life.  This book will open your mind just by reading it.  My personal opinion is everyone should read this book.  This one will change your perspective on life and even help you in your personal relationships.  That's how powerful it is.
Think and Grow Rich by Napoleon Hill.  Book contains money-making secrets that can change your life.  I have read this book several times and often listen to the condensed audio recording of it.  There is an abundance of life-changing insight in this book.  One that I recommend you have on hand if you are a business owner or Entrepreneur.  If you learn and apply the simple basic techniques revealed in the book, you will have mastered the secret of true and lasting success.
Millionaire Success Habits by Dean Graziosi – I attended an event earlier this year and picked up a copy of this book.  This is another perspective and life changing book that I highly recommend everyone read.   If you are an Entrepreneur just starting out or someone looking for the answers to what you feel you are missing in life – you want to read this book.  But not only read it, but do the exercises in it as you read.  Trust me on this one it will make a huge difference in your life.
Expert Secrets by Russell Brunson – This Book you can get ABSOLUTELY FREE – just pay shipping & handling. Even if you do not have a business yet – this is an excellent book! Very eye-opening.  To receive a copy of Expert Secrets free and just pay the shipping and handling click on the picture below!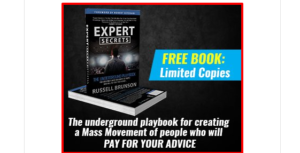 Another Book on my radar that is Excellent if you create your own sales funnels.  108 Proven Split Test Winners by Russell Brunson.  This one you have to sign up for the Funnel U through ClickFunnels® but then you receive the book for free.  If interested just click on the book below, it will take you straight over to ClickFunnels®.
DOTCOM Secrets by Russell Brunson.  The underground playbook for growing your company online.  This is another book that is FREE – just pay shipping and handling.  This along with Expert Secrets above are must have books for any business owner.
DOTCOMSecrets by Russell Brunson 
Speaking Empire cofounder Dustin Mathews recently released a new book.  The "NO B.S. Guide To Powerful Presentations".  I saw Dustin in person at the 4% International Conference and also attended his FB live 3 day course just recently.  His presentation is world-class training.  I highly Recommend this book! Even if you are not looking to speak on stage or in front of an audience. The book gives you the best tips on presenting anything. Covers all niches and the process is easy to follow.
July 2018 – RELEASE
Brand new and just released by ClickFunnels ®CEO Russell Brunson
"Marketing Secrets Blackbook" shares the top 99 Marketing Lessons that created the BIGGEST impact on his business.  These top 99 lessons allowed ClickFunnels® to grow from startup to $100 Million in sales in just three years!
This book is 100% Free and you can have access to it right here.
Newly Released Recommendation:
Order your free* Copy of "Sofware Secrets" today and get your Digital eBook and Audio book Free!
*small shipping and handling charge apply*
BRAND NEW RELEASES:
Whether you are an entrepreneur just getting started or an established business owner Copywriting Secrets will help you write better sales copy.  If you have struggled writing ads, sales letters or even emails that convert, Copywriting Secrets will share proven formulas that will help you get more subscribers, leads, sales and even fans for your business or offer you are trying to promote!
As a marketer if you have ever run into 'writers-block' this is one book that can help you and your business regardless of the product or service you sell!
Grab your free copy today and just pay a small shipping and handling fee.
If you are not ordering a physical hard copy book, try the Amazon Fire HD Tablet to download your book to.