A Special Thank You From Worksmarter4u and Silver And Gold Solutions
A special thank you from Worksmarter4u and Silver And Gold Solutions for making 2022 a very special year.
2022 was a very special year for us here at Worksmarter4u and Silver And Gold Solutions.  In October we had our 'official' ribbon-cutting event with the Galena Chamber of Commerce.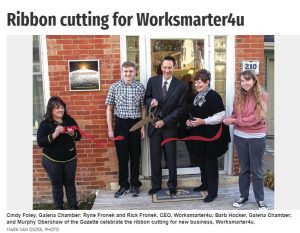 A dream and a journey that started back in the summer of 2016, finally came to fruition, when we officially put ourselves on the map in our new permanent home in the scenic, historic town of Galena.
Since our ribbon-cutting event, we have been in the midst of our Grand Opening Celebration.  Paying it forward and giving and sharing as much as we can to thank those who have supported us and believed in our dreams and goals.
We are pleased to share that Worksmarter4u made donations to the Hurricane Ian relief fund as well as the Disabled Veterans of America in early December.
Ten percent of all proceeds from Worksmarter4u are donated to the DAV to help those that sacrificed so much in defending this great country of ours.
In October we shared iHub Global's complimentary travel program with everyone.  For every free account created we matched iHub's donation to the Hurricane Ian relief fund.
As a special thank you from Worksmarter4u and Silver And Gold Solutions we wanted to finish 2022 by giving even more back to everyone.
We recorded a special Christmas / End of the year thank you video that shared giveaways, prizes, drawings and a very special offer.
One of the special items included in the video has a 200 plus dollar value that anyone across the globe can take advantage of!
We will be having our last weekly drawing for a 1oz pure silver Indian Head Buffalo coin as well as our final drawing for a 1/2-gram graded gold coin.   Find out the details by commenting as instructed in the YouTube video.
All of the links shared in the video are in the comment section below the video on YouTube.
We appreciate everyone's support for making 2022 a most memorable year for us!
Whether you follow us here on Worksmarter4yourfuture, our main site Worksmarter4u or Silver And Gold Solutions, you have all played an important part to making this year one we will always remember.
As always, I wish each and every one of you my best for continued success and happiness in life!
May 2023 bring you an abundance of great health, good fortune and happiness in all that you do!
Kind regards
Rick
CEO Worksmarter4u / Silver And Gold Solutions
*excerpts from post originally posted on Worksmarter4u's blog page.