Business Mid-Year Check Point A Time To Reflect
2020 is half over and it is a time to reflect on what has happened in our lives and in our business.
When the new decade started "2020 the decade of opportunity" – little did we know that the entire world would be affected by something out of everyone's control.  But we are still here and we still have the opportunity to make the rest of 2020 a year we will never forget – FOR GOOD REASONS!  Not for what the media is portraying it as – gloom and doom.
July, the mid-year point, is a great time to reflect on where you stand as a business owner, entrepreneur and even mother or father.
A simple exercise everyone should do, as I am doing myself as well:
Take a few minutes and refer back to your goals at the start of the year, the start of a decade of opportunity.  If you did not map out a plan for the year, that is okay, you can still do it for the rest of the year.
Review what your plan was, what your goals or dreams were and look at them objectively.
Are you reaching them?
Have they been derailed by unforeseen circumstances?
Are you looking at them and saying "Oh crap! I forgot about this one or that one!"
Trust me, I have my list of goals and where I would like to be – and looking at mine I have a few "Oh crap" moments.
But WE can right the ship.  We can change the outcome and still make 2020 the year of opportunity.  Despite all the negativity the media is portraying, there are millions of opportunities for businesses old and new to take advantage of.
Some things to think about when looking at your goals or where you would like to finish the year at:
Right now ecommerce is booming off the charts as a result of the pandemic.  Brick and mortar stores are having to reinvent the wheel for making sales and serving their customers.  The businesses that are taking action and doing something about it are the ones that will flourish and finish 2020 stronger than they anticipated.
There are resources and options available for all business owners and entrepreneurs.  But you have to be open to learning something new.  What created your success 10 years ago is not going to create your success for the next 10 years. The face of marketing has done a complete 180.
Social media marketing has become a critical means of communicating for every business looking to achieve long term success.  Finding the right platform and audience right now, is critical for short term and long term success.
Most everyone I know logs into Facebook, LinkedIn, Instagram, Twitter and TikTok at least one time if not more daily.  So there is your audience.  Newspapers and magazines were great sources of marketing years ago – but the majority of people ask Google for it's opinion before they are liable to pick up something printed on paper!
Again – gold nugget – "Hey Google tell me where I can find…near me" Fill in the blank.  Are you marketing on google or are you targeting potential buyers or customers with a "near me" hashtag?
If you have a store, a service or product based business – there are a ton of options available!  You just have to know where to look.
In one of my previous posts I shared "Creating Success Through Webtalk – The Future Of Social Media" as an up an coming platform that combines the features of LinkedIn and Facebook. Webtalk takes social media marketing one step farther by sharing their ad revenue with it's users and offering social media integration.
For some business owners and entrepreneurs the concept of ad revenue sharing may be new.  The CEO of Webtalk, RJ, shares a detailed explanation in this youtube video.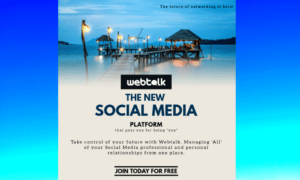 Webtalk is a great place to start if you do not have time to log in and out of several different platforms.  Just post and share from one location.
For brick and mortar businesses that must dive into online marketing – Quit being CHEAP!  I once had a potential customer tell me "I want to grow my business, but I really don't want to spend any money" … What the?  As I pass their business almost daily and see an empty parking lot, I just shake my head.   (Side note:  my proposal offered several options most of which had free trials from 14 to 30 days.  One's they could implement themselves, if they took the time to learn)
Starting a new chapter online can be challenging, but finding help and learning from experienced online marketing professionals can eliminate some of the overwhelm.
Mass Traffic Blueprint is a starting point I would highly recommend.  Knowing how to take a campaign and scale it for results without paying a fortune in advertising.  Learning the basics, the structure of a marketing campaign and how to implement before you start will help you maintain your budget in the long run.
Online marketing education is available in abundance.  Resources such as Udemy, Skillshare, LinkedIn and Hubspot content marketing are a few that offer individual classes that can be taken whenever and wherever you like.  Be mindful that you may need to take several courses to achieve what you are trying to accomplish.
There are also mentor based platforms that offer specialized training that encompass not only marketing your business but the insight and resources to scale it as well.  Some of these offer ongoing live training as an extra incentive.
Networking with other local business owners and area consultants is also a good idea if you are struggling to find new ways of getting new customers or clients.
Social media, although at times can seem overwhelming or redundant, does offer a means to connect with others as well as an opportunity for you to see what is working for other local and online businesses.
There are 6 months left in 2020.  Two of those months, November and December, can make 2020 incredible for you.  But taking action, learning , implementing and having the right mindset is what will help you finish the year strong!
Your "Mid-Year check Point – A time to reflect" – is your personal call to action – "To Take Action" and make 2020 truly a year to remember!
As always my very best to you for continued success and happiness in business and in life!
Kind regards
Rick
CEO Worksmarter4u  / Worksmarter4yourfuture.com