Celebrating Pride – Galena Pride Picnic 2022
The Galena Pride Picnic on June 11th, 2022 was in Grand Park in the beautiful historic and scenic town of Galena Illinois.
Visitors from nearby states and communities are greeted by the beautiful view of the picturesque historic little town nestled among the rolling hills of the northwestern tip of Illinois.
During the month of June, visitors' attention is quickly brought to the Galena Pedestrian Bridge that links downtown Galena to Grant Park.
Helping to celebrate Pride Month, the Grant Park pedestrian bridge is adorned with colorful rainbow flags and stairs, in tribute to those who have fought for inclusivity and equal rights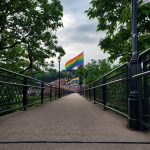 The Galena Pride Picnic event was put together this year by the Galena Public Library District.
An event that took a tremendous amount of time, planning, effort, support, volunteer help, and cooperation that should not go unrecognized.
The key to an event is organized planning, teamwork, and a great effort by like-minded individuals to come together with one specific result in mind.
Jenna and Larissa from the Galena Public Library did an outstanding job bringing this event to the Galena Illinois community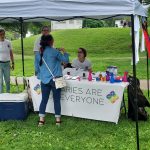 The Galena Pride Picnic was a perfect example of everyone coming together and taking pride in creating an event that recognizes equality and equal opportunity for LGBTQ Americans.
Hundreds of visitors and attendees of the Pride Picnic were able to experience firsthand what the result of impeccable planning, community support, local business support, and help from many volunteers, could do, to make the event enjoyable for everyone!
Despite the intermittent rain throughout the afternoon, the Galena Pride Picnic was a success.
The event featured live entertainment from Sarah Lentini and Kara Gordon.  Family activities, lawn games, story time with Anna Mae, Vendor booths, Food, Drink and Ice cream, and raffles could be found throughout Grant Park.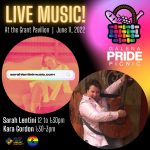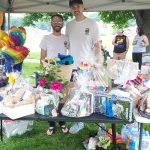 The event culminated with an outstanding Drag Show that featured Anna Mae, Sage Umbra, Elektra Supernova, Cynthia Mooseknuckle and Scylla Kone.
A Special thank you to the Galena Police Department and Paramedics who were on duty all afternoon – your service was greatly appreciated.
A very special thank you as well to all of the Amazing Sponsors who helped make this year's event a success as well as the businesses that donated gift baskets for the event raffle.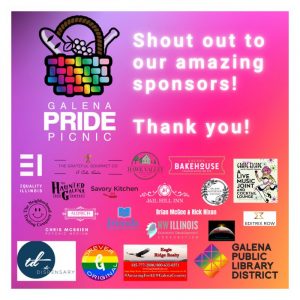 For the scenic historic town of Galena Illinois, this year's Pride Picnic was a success!  Only in its second year of having the event, pride and great teamwork made the event special for everyone that attended.
A special thank you again to the volunteers, supporters, vendors, and each and every person who attended and made the event memorable!
As always my best to everyone for continued success and happiness in life!
~ Rick
Worksmarter4u / Worksmarter4yourfuture
Businesses that sponsored the event:
VisitGalena.org, The Dispensary East Dubuque, Eagle Ridge Realty, Equality Illinois, Hawk Valley Retreat & Cottages, The Grateful Gourmet Co., Brian McGee & Rick Nixon, The Haunted Galena Tour Company, Savory Kitchen Galena, Galena Apothecary, The Grape Escape, Editrix Row, Aldrich Guest House, The Neighborhood Trading Company, Jail Hill Inn, Chris McBrien Psychic Medium, Galena Bakehouse, NW Illinois Economic Development, Worksmarter4u, Friends of the Galena Public Library