Ecommerce Trend Impacts Business Education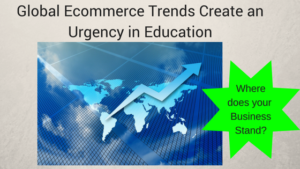 The current Ecommerce Trend Impacts Business Education and creates an urgency not to be overlooked. The recent Bankruptcy filing by Toys R Us is a red flag that even the most stable brick and mortar retailers are feeling the pressure of the ecommerce surge.
"…the ultimate toyland for a generation of postwar baby boomers, filed for bankruptcy thanks to a crushing debt load from a buyout and relentless competition from warehouse and online retailers." – Bloomberg
As more consumers turn to online retail shopping, even the most stable of long term retail stores are at risk!  Amazon, Walmart, and Apple top the list for biggest E-commerce Retailers according to data from eMarketer (4/7/2017 source WWD). Toys R Us didn't crack the top 50.
For brick and mortar stores, online stores, and businesses in general, their focus should center around continuing education to to stay relevant with ecommerce trends.  Business education can no longer be taken lightly.
"US retail ecommerce sales are expected to jump 16.6% during the 2017 holiday season, driven by increases in mobile ecommerce and the intesifying online battle between large retailers and digital marketplaces." – eMarketer Retail
What does that mean for your business? Where do you stand? Are you prepared to invest in education for future success?  Have you allowed for Busines Education in your budget?
In a report on ecommerce trends issued by BigCommerce earlier this year: "51 % of Americans prefer to shop online.  96% of Americans with internet access have made an online purchase in their life, 80% in the past month alone.  Ecommerce is growing 23% year-over-year, yet 46% of American small businesses do not have a website."
Marketing strategies and sales departments need to re-focus on how to stay current with the ever changing face of ecommerce.  Now is the time to elevate your marketing strategy with ongoing continuing education.
Social media marketing strategies are a trend brick and mortar businesses need to instill in their strategies for growth.
Condensed continuing education courses are the wave of the future.  With the emergence of Tecademics as the first internet marketing college a new trend is being established.
Condensed education courses in specialty areas will allow current and 'new' businesses to learn and apply education to stay current as ecommerce evolves.  No longer will Businesses have the need to send someone to seminars or college for specialty courses.  Employees will have the ability to learn and apply the knowledge they learn from condensed education courses in the comfort of their office!  The BENEFIT OF CONDENSED EDUCATION Training in a downloadable format is an immense time and money saving option for employers!
Specialty "Condensed" Business mastering courses in SEO, Instagram (Insta Traffic Mastery), and Ecommerce (Ecom Entrepreneur) will enable Businesses to gain the knowledge and the competitive edge they need.  Having the most up to date training from some of the industries top influencers will give businesses the edge they need to DOMINATE their industry!
For more information see Continuing education resources for your business
When marketing trends and strategies change at an alarming rate, having the knowledge and resources available to your business will help Minimize the impact felt by most companies with todays ecommerce trends.
Businesses that are Proactive in implementing specialty continuing education courses will have the edge and be the difference makers in the future of ecommerce.  Which trend will you fall into?
My best to you in your search for success online and in life!
Rick Fronek
CEO Worksmarter4u / Worksmarter4yourfuture.com
While you are here, sign up for our Newsletter to stay current with Continuing Education products and insight for your business.
Disclosure: I am an independent FourPercent Affiliate, not an employee. I receive referral payments from FourPercent. The opinions expressed here are my own and are not official statements of FourPercent or The Four Percent Group, LLC.