Seven Steps to Success in 2023
Seven steps to success in 2023 will help one clarify the path they can take to finally make the age-old adage of a 'New Year's Resolution' finally come to fruition.
Every New Year's Eve and Day finds one trying to make a commitment to fulfill the age-old tradition of a New Year's Resolution.  A resolution that will start one on a new path to a better life, beit health, relationships, financial stability or overall goals to become a better person.
For some the task of even having one, leaves them frustrated and giving up before the resolution is stated.
For those adamant about having one, they find themselves 3 to 4 weeks into the new year, already abandoning their resolution … 'well, I tried" is what most often declare.
Seven steps to success in 2023 can help prevent the 'resolution' from falling to the wayside by helping one have a structured laid out game plan to follow.
The number one key for someone to have a hope and a prayer of success is writing your resolution or goals out.  There is something to it when someone not only makes a mental commitment to where they would like to see themselves but writing it out on a piece of paper and making that commitment in writing and to read it every day can help someone double their chance of achieving it.
A few years back one of my mentors shared this concept with me.  This one free program 'Seven steps to freedom' really can make an impact and help someone finally have a structured game plan on how they want their year to unfold.
The 'Seven steps' guide shares a clear step-by-step process to create a clear target, a game plan for the year, a money plan and if you want to take it even a step further, a way to build and grow your presence online … yet the main advantage (from personal experience) is developing a clear target and the 'money plan' aspect of it.
Face it, without both, your subconscious (and paradigm) will have you abandoning your resolution and any desire to improve your circumstance within a blink of an eye.
I would like to share one other tip that can help your seven steps to success in 2023 really have a chance of succeeding.
This video courtesy of Dr. Joe Dispenza is worth the time to watch.  Maybe even 3 or 4 times!  Understanding how someone breaks 'old habits' and allows new ones to take their place is more difficult than one may realize.
Understanding your mindset and what you can do to alter it plus the Seven Step Guide can give you the opportunity of having a better chance of personal success in 2023.
Accessing the 'Seven Step Guide' is free to do.  However, you do have to create a free basic membership with the Four Percent Group.   It is 100% free with no strings attached.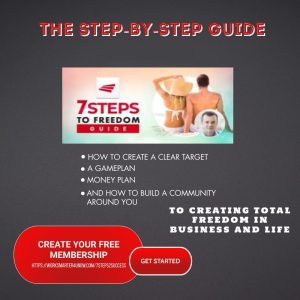 If you are already a member of the Four Percent, you already have access to it.  If not, simply create your free basic membership and take advantage of the guide.  There is no time limit on going through the guide.  There are 7 steps so I would recommend one or two a day.
Even if you already have your game plan and targets established, the guide, as well as the video referenced above will give you additional ideas on how you can make 2023 one of the best years of your life.
Would love to hear the results from anyone that implements and takes action on the seven steps to success in 2023!
As always, my very best to you for continued success and happiness in business and in life!  See you at the top!
Happy New Year!
~ Rick
CEO Worksmarter4u / SilverAndGoldSolutions
To receive notifications of future posts from Worksmarter4yourfuture, Worksmarter4u or Silver And Gold Solutions, please send us a message on our contact page!