Lifetime Scholarships Revolutionize The Future Of Business Education
Lifetime scholarships can revolutionize the future of Business Education.  Marketing today has evolved no matter what business you are in.  Traditional continuing education programs that businesses have incorporated in the past are no longer effective for short term or long term business growth.  Accelerated learning techniques that allow businesses to implement in real time is a necessity to stay current with marketing trends.
Finding the right marketing education for continuous growth has been a challenge for all businesses in general.
"…our research tells us that organizations today suffer from a "skills supply chain" challenge. Not only do more than 70% of organizations cite "capability gaps" as one of their top five challenges, but many companies also tell us that it takes 3-5 years to take a seasoned professional and make them fully productive." (Forbes -Employee Capabilities Now A Priority)
Continuing Education in Business is Critical For Ecommerce Growth
Finding budget friendly continuing education has also been a challenge for businesses.  With traditional education courses steadily on the rise, businesses want a quick ROI when they invest in their employee's education.
Traditional education methods are not the answer
The demand for affordable marketing education with real-time implementation needed to be answered … Enter Digital Marketing Education.
Digital Marketing Education can bridge the gap between the classroom and real-time business implementation.  The very first internet Marketing College Tecademics, took a unique approach to education.  Tecademics proprietary "Systematic Path Process (SPP)™" is the gateway to a complete accelerated education solution for students.  With over 16 career paths and 70+ classes available, the focus of achieving goal-oriented results has been answered.
Each path will teach students specific internet marketing skills necessary to perform and compete at a high level in the internet marketing industry.  The 70+ courses support the demand to grow and scale existing Businesses.  Giving students (and businesses) the cutting edge education they need to stay current & competitive in today's ever evolving market space.
Tecademics, the premiere source for ecommerce education, will now vastly expand to include many more options for Modern Digital Businesses as well as traditional Brick and Mortar Businesses.
To meet the demand for accelerated education learning across the globe, Tecademics, currently located in Scottsdale Arizona, is adding 5 More Brand New locations worldwide:
Phoenix Arizona
Atlanta Georgia
Toronto Canada
London UK
Sydney Australia
In addition to 5 brand new campuses, Tecademics, for a limited time is offering Lifetime Scholarships.  With the option of attending in person classes on campus OR logging into a live interactive digital class, Tecademics is revolutionizing marketing education.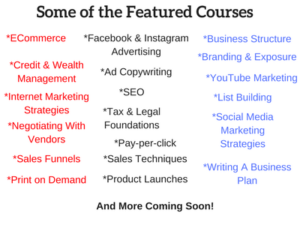 Imagine logging into your class from the comfort of your office or home and having the ability to interact with teachers and classmates as the course is being taught!  Download all course materials, workbooks, pre-tests, post test information from any where in the world.  Having lifetime access to courses in specific subject matters chosen in your scholarship package.  That means 2 and 3 and even 20 years down the road having the ability to learn from subject matter experts currently up-to-date and thriving in their areas of expertise.
Currently universities do not offer any Lifetime Access, Livestream Courses or the ability to  access recordings wherever and whenever you want.
However, Tecademics does with their lifetime scholarship packages currently available for a limited time*.
There are two Lifetime Scholarship Programs available
Monetize Lifetime Scholarship (this is a scholarship for 2 people, you and the person or business associate of your choice)
30 Full courses you need to build, grow and scale your business.
Monetize is for the committed entrepreneur and business owner who wants to understand and leverage the critical aspects of e-commerce, internet marketing, and business marketing.  Included in the Monetize Lifetime Scholarship:
Lifetime Campus Pass (for 2) to ANY CLASS to any location around the world
Lifetime interactive livestream access to every class in real time.  Log in to any class on any campus in the world and watch live.
Lifetime All-Access archived recordings.  24/7 Instant access to any class on demand on the Techademics roster around the world.  Access to any class whenever you want.   The ultimate flexibility to go through material on your time and on your terms.
Find out more about the Monetize Lifetime Scholarship.
Accelerate Lifetime Scholarship (also a scholarship for 2 people)
Your choice of 10 classes from 30 Intensive Courses to Build Your Online Enterprise
10 Class Campus Pass to any Tecademics location (for 2)
10 Class interactive live stream access
10 Class All-Access archived digital recordings
Bonus: Lifetime livestream access to any class on any campus anywhere in the world for the rest of your life!
Find out more about the Accelerate lifetime scholarship
These are Lifetime scholarships that cost less than a typical university does for one year.
So every year moving forward you will have the unique ability to learn from subject matter experts who are thriving in their expertise.  The option of attending live in-person, live stream and or in replay.  Leading to a lifetime of marketing education opportunities.
Not only is Tecademics setting a precedent for lifetime scholarships, they also are allowing for in-house financing.  Options are available for each of the lifetime scholarships being offered.
The lifetime scholarship option is not only a cost-effective option for small businesses to corporations, but also, an economical option for the student pursuing a specialized marketing career.
*Lifetime scholarship options are only available until December 31, 2017*
Traditional Marketing education options offered by universities are still an option as part of their curriculum for students in pursuit of a Degree in Business.
However, for Businesses striving for that cutting edge Marketing Strategy – and keeping up with the ever changing ecommerce world – a complete acclerated education solution in Tecademics is the answer.
Create a Free Student Member account and receive more information on lifetime scholarships as well as free education.  From the beginner to the expert Tecademics has something for everyone. Free offers, educational content and tips delivered straight to your inbox.
You can also find out more information about special 'Lock-In' Prices here "How to Afford College in 2018 And Beyond With Lifetime Marketing Scholarships Lock In Prices" (YouTube video).
My best to you in your search for success in life and online.
Rick Fronek
CEO Worksmarter4u / Worksmarter4yourfuture.com
While you are here, sign up for our Newsletter to stay current with Continuing Education products and insight for your business.

*Lifetime scholarship options are only available until November 20, 2017*
About: What is Worksmarter4yourfuture